10 GHz
From UK Microwave Group Wiki
The UK 10 GHz or 3cms allocation nominally runs from 10-10.5 GHz but with a number of gaps/restrictions. It is the only UK amateur microwave band available to all three Licence Levels including Foundation. The centre of the narrow band operating segment is at 10368 MHz.
Band Plan
Frequency ranges available are:-
Amateur Service: 10.000-10.125 and 10.225-10.475 GHz
Amateur Satellite: 10.450-10.500 GHz
See the RSGB band plan for further info
Beacons & Repeaters
There are a number of narrow band beacons in the 10 GHz band - see www.beacons.org.uk for an up to date list. There are also a number of licensed TV repeaters in the band which provide useful signals - see the ETCC web site for more details.
Satellites
Geostationary system QO-100 provides wide coverage across Region-1 with downlinks in 10.4GHz from uplinks in 2.4GHz
10 GHz Equipment
3cms is popular and a great band to get an introduction to microwaves and several equipment manufacturers make transverters for 10GHz. Opportunities also arise from widespread availability of low power radar modules which can be used for NBFM contacts.
This portable set up is GPS disciplined for frequency accuracy and only develops about 850mW at the antenna feed. The antenna is an 80cm offset Sky dish and the transverter is driven by a 144MHz FT290.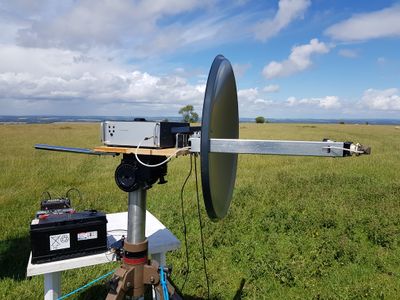 10 GHz Power Amplifiers
10 GHz Antennas